Breaking Bad - Main Theme Sheet Music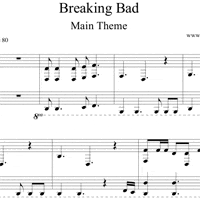 After the payment, you will be redirected to a page where you will be able to download the sheet music in PDF and MIDI format.
I never though I would play Breaking Bad's Main Theme, until I watched the ending of the S05E15 episode (yeah, that one) and the theme started playing in full. Then I knew I had to play it!
Watch this sheet music played live: