Daredevil - Opening Sheet Music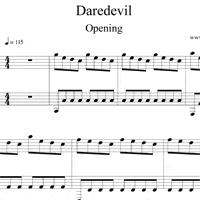 After the payment, you will be redirected to a page where you will be able to download the sheet music in PDF and MIDI format.
Released on April 2015 on Netflix, Marvel's Daredevil is a television series based on the Marvel comics. On this page you can download the Daredevil theme sheet music based on my piano cover of the opening theme.
Daredevil's main theme was composed by John Paesano, and can be heard during the show's opening. The opening theme remained the same for all of Daredevil's seasons. Daredevil's opening theme is my favorite theme of all the recent Marvel television series, Jessica Jones' opening being second :)
Marvel's Daredevil series is about Matt Murdock, blind lawyer during the day, and hero/vigilante fighting the crime at night. The first season sees Wilson Fisk as the villain, who quickly became one of my favorite bad guys!
For more sheet music like the Daredevil theme sheet music, you can check the main piano sheet music page. You can find various TV series themes, among other things, like the True Detective opening sheet music, Fringe theme sheet music, Malcolm in the Middle opening sheet music, and many more.
Watch this sheet music played live: