Daria - You're Standing on my Neck Sheet Music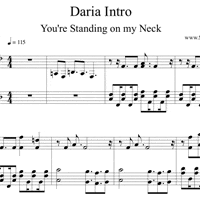 After the payment, you will be redirected to a page where you will be able to download the sheet music in PDF and MIDI format.
Well, Daria's opening was surprisingly fun to play. Basically, I checked the chords for the left hand on a guitar tab, adapted it for the piano, and learned the rest by ear.
Watch this sheet music played live: