FAQ
Here you can find the most frequently asked questions I receive. If you have another question, feel free to contact me, I try my best to answer to everyone.
Who are you and how long have you been playing piano?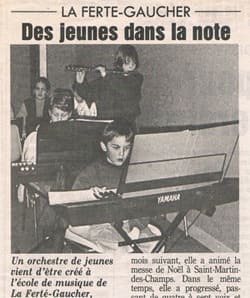 This is me at 7 being all cool and rebellious.
Yes I had my picture in the newspaper, that's how cool I was.
My name is Josserand, I'm 32 years old and I live in France near Paris.
I had piano lessons for 3 years when I was 7, which taught me some important basic music theory. Since theory is really boring, I completely stopped playing for 10 years because I was young and rebellious, and too cool for that.
After some growing up, and a lot of video game playing, I found my old keyboard, dusted it off, and started playing again for fun.
It has now been 12 years since I started playing piano again by myself, and I'm still kicking myself for stopping playing for so long.
What piano are you playing on?
I'm playing on a Yamaha P-85 digital piano, which I got 9 years ago. Before that, I played on a Yamaha (yeah, again) keyboard that was older than me, so the P-85 is the only digital piano I really know. And yes, it's a pretty good one!
Can you make the sheet music for *insert random song*?
If it's not mentioned nor available in the sheet music page, chances are I probably won't make it. Making sheet music takes a long time, especially for someone as slow as me!
Can you play *insert random song*?
Unfortunately, I already don't have enough time to learn everything I want, so I probably won't have time to learn what YOU want. Still, I like to know what you like, so feel free to point songs that would be great to hear on piano!
How do you record the sound from your piano?
First, I record the video with my camera and the sound with the recording feature on my piano (hence the blinking light on my piano you can see on most of my videos). Then, I use a simple line-in cable to connect my piano to the microphone input on my computer, I playback the recording on my piano and record it using Audacity. All that's left is to sync the sound with the video with your favorite video editing software.
Can I use one of your cover for a video project?
I don't mind! But please keep in mind that while I made the cover, I don't own the copyrights for all the original songs!