Metal Gear Solid - Main Theme Sheet Music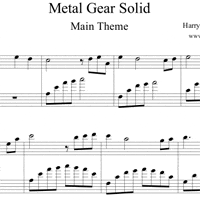 After the payment, you will be redirected to a page where you will be able to download the sheet music in PDF and MIDI format.
Very few video games had as much an impact on me as Metal Gear Solid.
Thanks to its charismatic characters or its gorgeous music, I will always have an high opinion of this video game series.
Watch this sheet music played live: