Once Upon a Time in the West - Man with a Harmonica Sheet Music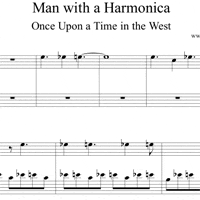 After the payment, you will be redirected to a page where you will be able to download the sheet music in PDF and MIDI format.
Once Upon a Time in the West is a spaghetti western movie directed by Sergio Leone, first released in 1968. The Man With a Harmonica piano sheet music available on this page is based on my piano cover, which you can check below. The song itself was written by Ennio Moricone for the movie.
Ever since I was a child, I always loved that theme. I watched Once Upon a Time in the West when I was young, and that music just stuck with me. Man With a Harmonica is both powerful and melancholic. In fact, I don't think I ever heard a movie song that had the same effect on me.
Then, years later, Muse used the Man With a Harmonica theme for their song Knights of Cydonia, which I think is one of their best yet.
If you like the Man With a Harmonica sheet music, you may want to check the piano sheet music page for more. You can find the Terminator theme sheet music, Red Dead Redemption - Deadman's Gun sheet music (which you should play if you're into westerns and like great video games), or some Muse sheet music like Muse Exogenesis Part 3 sheet music!
Watch this sheet music played live: