Penny Dreadful - Main Theme Sheet Music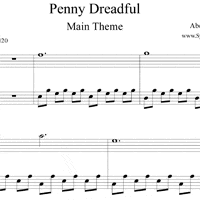 After the payment, you will be redirected to a page where you will be able to download the sheet music in PDF and MIDI format.
Penny Dreadful is a horror drama TV series featuring Eva Green. It was first released on Showtime in 2014, and ended 2 years later after 3 seasons of monsters, vampires, witches, werewolves and immortal beings. The Penny Dreadful opening sheet music available on this page is based on my piano cover of the opening theme.
The song itself is called Demimonde, and was composed by Abel Korzeniowski. The theme is heard in the opening credits, as well as several times during the show.
While Penny Dreadful has many beautiful songs, its opening theme is the first I wanted to play. Apart from the last episode, the opening song remained the same throughout the 3 seasons, which makes it Penny Dreadful main theme.
Almost all the characters in Penny Dreadful are inspired by iconic fictional figures, like Dr Frankenstein and its creature, Dracula, Dr Jekyll, Dorian Gray and its mysterious painting, and many more. And at the center of all this mess is Vanessa Ives, an enigmatic woman who seems to be coveted by the devil himself for mysterious reasons...
For more TV shows themes sheet music, including piano covers, feel free to browse the sheet music page. Among other sheet music, you will find the Walking Dead theme sheet music, Stranger Things theme sheet music, True Detective opening sheet music, and many more!
Watch this sheet music played live: