Radiohead - Creep Sheet Music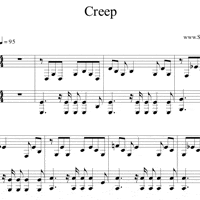 After the payment, you will be redirected to a page where you will be able to download the sheet music in PDF and MIDI format.
I always wanted to play this song, it has always been a favorite of mine.
I just never was confident enough to try. Until now.
If you haven't checked the Scala & Kolacny Brothers' version, you should probably do it. It's almost better than the original. Almost.
Watch this sheet music played live: