Red Dead Redemption - Deadman's Gun Sheet Music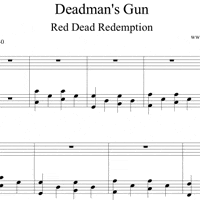 After the payment, you will be redirected to a page where you will be able to download the sheet music in PDF and MIDI format.
If I had to select the best games from my PS3, Red Dead Redemption would certainly be one of my first picks. Aside from John Marston's charisma, one of the game's biggest quality is its soundtrack.
While I fell in love with the game when Far Away started playing mid-game when you arrive to Mexico, it broke my heart when Deadman's Gun started playing during the credits.
Watch this sheet music played live: