Stranger Things - Opening Theme Sheet Music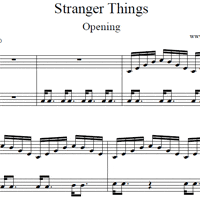 After the payment, you will be redirected to a page where you will be able to download the sheet music in PDF and MIDI format.
Stranger Things is a science fiction-horror TV show released on July 2016 on Netflix. This Stranger Things theme sheet music is based on my piano cover, which I made after finishing watching the first season.
One episode after another, I grew attached to the opening theme, and decided to play my own interpretation of it. Since it's a really short theme, I made the song last a little longer.
Stranger Things is inspired by the works of some of my personal heroes, including Stephen King, John Carpenter, Steven Spielberg and George Lucas. The show is set in the 1980s, and relate the story of 3 boys searching for their friend who mysteriously vanished, with the help of a psychokinetic girl who escaped from a military research facility, while some feral monster seems to be lurking around.
If you're interested in other TV shows opening sheet music, you might want to check my Game of Thrones theme sheet music, Penny Dreadful theme sheet music, The Leftovers theme sheet music, and many more. For a full list, check the main piano sheet music page!
Watch this sheet music played live: