The Leftovers - Opening Sheet Music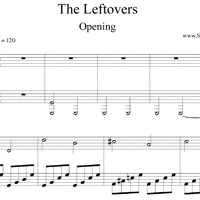 After the payment, you will be redirected to a page where you will be able to download the sheet music in PDF and MIDI format.
The Leftovers is a drama TV show based on Perrotta's novel. Its first season premiered on HBO in 2014. The Leftovers piano sheet music you can download here is the opening theme for the first season. The main title theme for The Leftovers' first season was composed by Max Richter.
The first song I played on piano from The Leftovers was The Twins. I really liked both The Twins and the main title theme, so I decided to play both. I was really sad to see the opening changed in the second season. If you're interested in playing The Twins, you can download it on The Leftovers The Twins sheet music page!
The Leftovers takes place a few years after a global event during which millions of people inexplicably disappeared all over the world. The show focuses on a family trying to live normally, while a number of cults emerge after the event.
You can find many more TV shows theme sheet music and many other sheet music, on the sheet music page, including the Breaking Bad theme sheet music, the Mad Men opening sheet music, or the Fringe theme sheet music!
Watch this sheet music played live: