The Leftovers - The Twins Sheet Music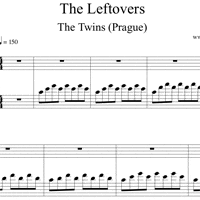 After the payment, you will be redirected to a page where you will be able to download the sheet music in PDF and MIDI format.
The Leftovers piano sheet music downloadable on this page is based on the piano cover I made for The Twins (Prague) song, which can be heard several times during the TV show The Leftovers.
The Twins (Prague) is one of the two The Leftovers sheet music I made, the other one being The Leftovers opening theme (which you can check on The Leftovers opening sheet music page, if you're interested).
The Twins (Prague) is The Leftovers piano theme composed by Max Richter. It's a haunting theme which get stuck in your head when you watch the show. This sheet music was made to be easily playable on piano solo.
I made a lot of TV show sheet music, which you can find on the sheet music page. Game of Thrones The Rains of Castamere sheet music, Penny Dreadful opening sheet music, Stranger Things theme sheet music... You name it!
Watch this sheet music played live: