True Detective - Opening Sheet Music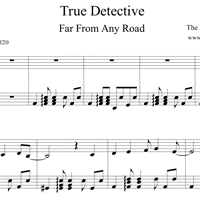 After the payment, you will be redirected to a page where you will be able to download the sheet music in PDF and MIDI format.
True Detective is a crime drama television series, first released on January 2014 on HBO. The True Detective opening sheet music available here is based on my piano cover of the first season's opening theme.
The opening theme for True Detective's first season is called "Far From Any Road" and was composed by The Handsome Family. It's one of the few TV shows openings I always watch entirely. When the first season ended, I downloaded the song so I could keep listening to if from time to time. It's sad the True Detective's second season didn't keep the same opening theme. The second season's theme is not that bad, but it's just not as good as the first season's.
True Detective is an anthology TV show, meaning each season presents a different story. The first season of True Detective was one of the greatest things I watched on TV :)
If you're interested in True Detective first season opening sheet music, you may like other openings sheet music, like the Breaking Bad theme sheet music, Mad Men opening sheet music, or Sherlock opening sheet music. You can also check the main piano sheet music page for a full list!
Watch this sheet music played live: