Yamaha P115 Review - the best digital piano for advanced pianists
The Yamaha P115 is the successor to the P105, which was itself the successor to the digital piano I'm currently using, the Yamaha P85.
It's one of the 3 latest models in the P-Series, and stands between the Yamaha P45, more suited for beginners, and the Yamaha P255, one the best digital piano for professional musicians.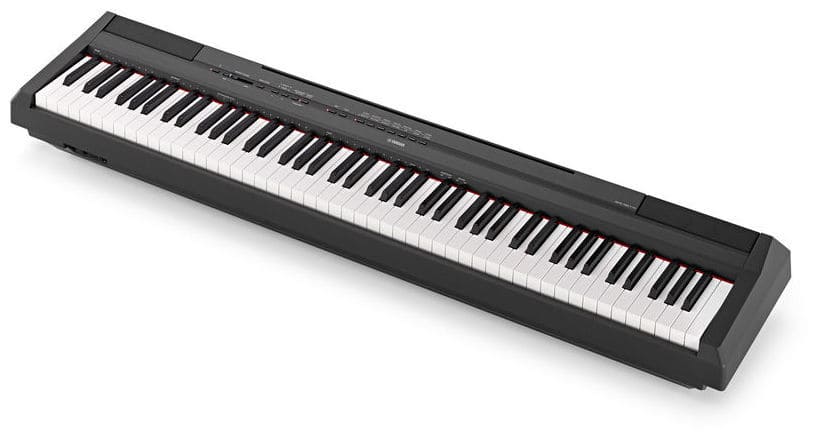 The P115 is available in 2 colors: the black Yamaha P115B and the white Yamaha P115WH.
If you're serious about playing piano, and are looking for the best digital piano for advanced pianists with one of the best price-quality ratio on the market, this Yamaha P115 review was made for you!
Yamaha P115 Features
88 Graded Hammer Standard (GHS) keys, that reproduce the feel of an acoustic piano with heavier keys in the low end, and lighter in the high end. This will allow you to learn the same finger technique on your digital piano that you would on an acoustic piano.
A Pure CF Sound Engine, that allows the P115 to sound almost like an acoustic piano. The piano samples are based on Yamaha's renowned CFIIIS 9' concert grand piano.
14 voices, from the famous Grand Piano to the Wood Bass, including strings, vibraphone, and several electronic pianos and organs.
4 professional reverbs, that will enhance the voice you select. The reverbs included are: recital hall, concert hall, salon, and club.
A built-in Metronome, to practice with an accurate tempo. You can of course customize the beat, rhythm, and tempo.
A record function that allows you to record your playing, so you can listen to it afterward, or play it again while plugged in your computer to record it in mp3.
A Pianist Styles function that allows you to sound like two piano players! Simply play a chord with your left hand, and the Pianist Styles will transform it into an accompaniment, based on a preselected style (arpeggio, boogie, blues, jazz, ...)
A Controller App (for iOS devices only) to control any function included in the P115. You can select the voice, reverb, rhythm and other settings directly from your iPhone or iPad.
As you can see, the P115 has a lot of nice features. However, I think its biggest strength is to offer the closest sound and feel to an acoustic piano you can get for this price.
The GHS keys that emulate the feel of an acoustic piano keyboard are a neat feature I miss on my old P85 keyboard. Also, the Pure CF Sound Engine makes the P115 one of the most realistic sounding digital piano, sampled from Yamaha's best grand piano. If you're looking for a digital piano that emulates almost perfectly a grand piano for an affordable price, the Yamaha P115 is definitely the digital piano you need.
The 14 voices are all you need to select the style you want, however I really only use the Grand Piano voice 90% of the time. Sometimes I use the dual sound feature, which allows you to play 2 voices at the same time, to mix the Grand Piano voice with the Vibraphone voice. This makes a more "mysterious" sound, which I find very fitting for some songs.
Of course you can record yourself, which is a common feature for a digital piano. It's also an essential part if you're planning to make mp3 files or videos of your playing. This is, well, you know, what I do, so we'll get back to that below!
The P115 digital piano only weights 26 pounds, which makes it one of the best lightweight digital piano, and very easy to move around. This is especially true if you're using an X frame stand, which brings me to...
Which stand should you use with the Yamaha P115?
You have two main options for your Yamaha P115 stand.
The P115 being one of the best portable digital piano, if you're planning to move it around (to play in concerts for instance), or just want to keep your set-up light, you should go for a simple X style keyboard stand. It's also the cheapest option.
If you want a more stable stand and a better look, Yamaha offers the L85 keyboard stand, specifically designed for the P115 and P45. It will allow you to use your P115 as an upright piano, and comes in black or white, to match the P115B and the P115WH digital pianos. To complete your set-up and get as close as you can to an acoustic piano, you can also purchase the Yamaha LP5A 3-Pedal Unit, made to fit the L85 keyboard stand.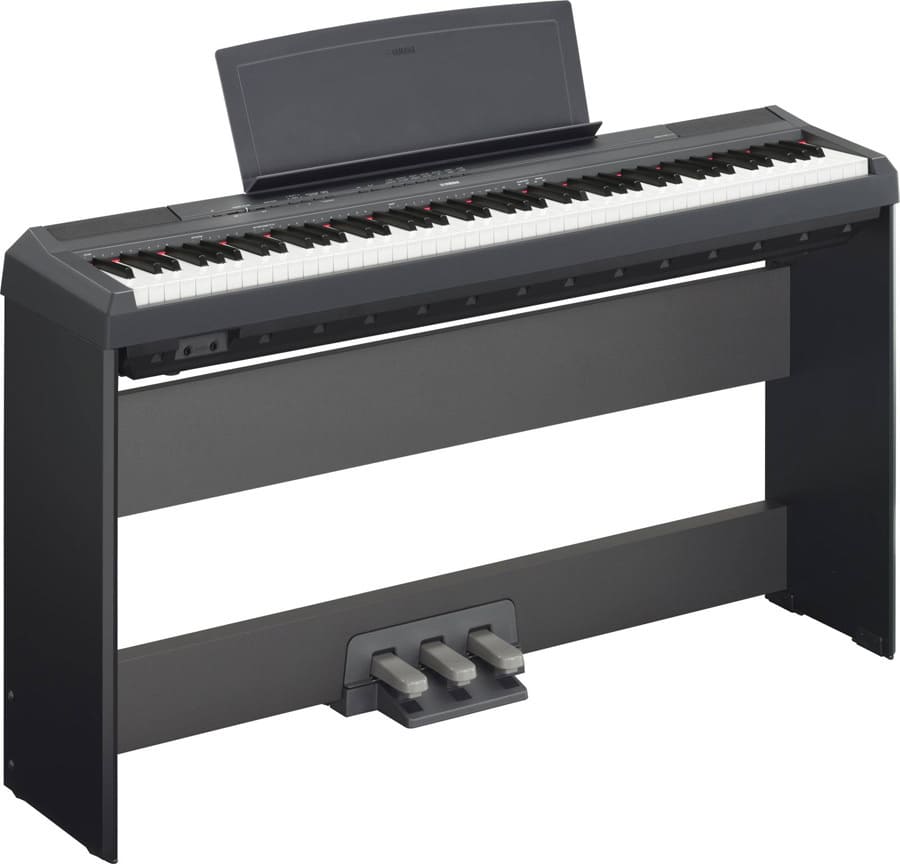 Who is the Yamaha P115 for?
The Yamaha P115 is well suited for advanced piano players, who have already been playing the piano for a while.
It's also a good fit for professional musicians who want an affordable digital piano, although they may be more interested in paying a little extra to get the Yamaha P255, which is the best digital piano in the P-Series.
Beginners who are serious about playing piano, and want an advanced digital piano that feels like a acoustic piano will also be interested in the P115. For a more affordable digital piano, they may be more interested in its little brother the Yamaha P45.
How to record the Yamaha P115 on your computer?
You don't need much to record the sound from your P115 digital piano on your computer.
First, you should play normally on your piano, while using the built-in record function. Once you're satisfied with your playing, you will need to connect your piano to the microphone input on your computer with a line-in cable.
Then, all you have to do is open your audio recorder software on your computer (I use Audacity, which is free), start recording your microphone input, and playback the recorded song on your P115. That's it! All that's left is to export your song to mp3 or whatever audio format your software allows:)
If you want to make a video of your performance, you should film yourself while recording the song on your piano. Once you have your mp3 file, you can sync it with the video you made (using a video editing software), to have the best sound quality possible.
The best digital piano under 1000$
The Yamaha P115B and Yamaha P115WH digital pianos can be found under 600$. You can check their current price, and customer reviews on Amazon right here.
You can also find several bundles, with various benches and stands, including the Yamaha L85 keyboard stand.
If the P115 is a little over your budget, you can also check the more affordable Yamaha P45, well suited for beginners.
Finally, if money isn't a problem and you're looking for the best professional digital piano, you should definitely consider the Yamaha P255, the best digital piano in the Yamaha P-Series.