The Nobodies
Sheet Music
Marilyn Manson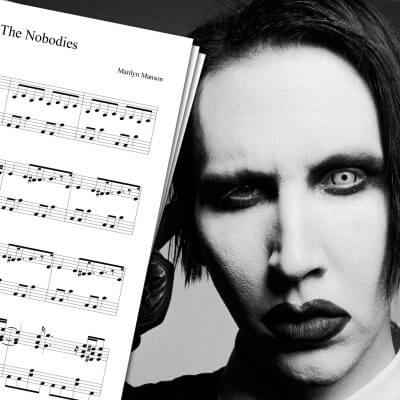 $5.95
Piano sheet music for The Nobodies by Marilyn Manson.
Format:
PDF
&
Midi
/ PDF Pages:
4
/ Difficulty:



Add to cart




The Nobodies Piano Sheet Music
The Nobodies Sheet Music was one of the most challenging songs to transcribe for me yet! It's probably my favorite song by Marilyn Manson, so I was motivated 🙂
The Nobodies is not an easy song to play on piano. With that said, if you're a beginner at playing piano, you want to play a song from Marilyn Manson, and you're looking for a small challenge, this may be the perfect sheet music for you!
Download The Nobodies Sheet Music
Purchase this Marilyn Manson sheet music to gain access to:
The Nobodies Sheet Music PDF
The Nobodies Midi
I also covered a few songs from Radiohead and Muse which you can find on the main sheet music page. There, you will find among other things the Radiohead Creep Sheet Music, the Muse Isolated System Sheet Music, or the Exogenesis Symphony Part 3 Sheet Music.
---
Marilyn Manson is a singer and musician who founded the eponymous rock band in 1989. The Nobodies is a single from their fourth album: Holy Wood (In the Shadow of the Valley of Death). The music video premiered one year later on MTV.