Metal Gear Solid Theme
Sheet Music
Metal Gear Solid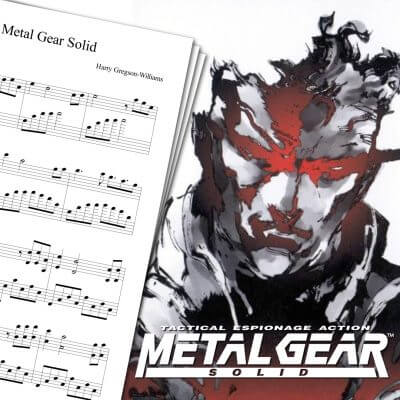 $5.95
Piano sheet music for the Metal Gear Solid theme song.
Format:
PDF
&
Midi
/ PDF Pages:
4
/ Difficulty:



Add to cart




Metal Gear Solid Theme Piano Sheet Music
Very few video games had as much an impact on me as Metal Gear Solid. This is why I covered two songs from this series, one of which you can check just above. This cover is based on the Metal Gear Solid Theme Sheet Music available on this page.
Thanks to its charismatic characters and its gorgeous music, I will always have an high opinion of this video game series, even now that it's dead and buried 🙁
The other piano cover I made is Quiet's Theme from Metal Gear Solid V. Feel free to check it here: Quiet's Theme Sheet Music.
Download Metal Gear Solid Theme Sheet Music
Purchase of this sheet music includes the following files:
Metal Gear Solid Theme Sheet Music PDF
Metal Gear Solid Theme Midi
You may also be interested in checking my other piano sheet music. These include, among other: the Red Dead Redemption Deadman's Gun Sheet Music, the Westworld Dr Ford Sheet Music, the Stranger Things Theme Sheet Music…
---
Metal Gear Solid is the third game in the Metal Gear video game franchise, and also the first one I played. The Metal Gear Main Theme covered on this page is present in the first 3 Metal Gear Solid video games.
The Metal Gear series, created by Hideo Kojima in 1987, lets gamers play as Snake (either Big Boss, or Solid Snake, two different characters). The hero is often tasked with finding and destroying a "Metal Gear", a bipedal tank equipped with nuclear weapons.