Stranger Things Theme
Sheet Music
Stranger Things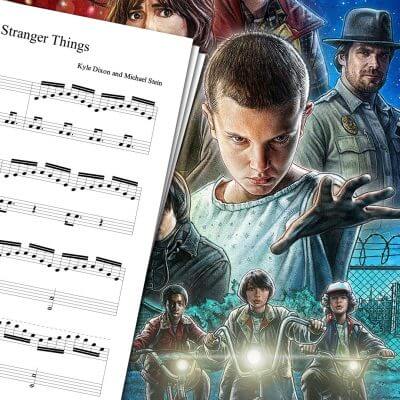 $5.95
Piano sheet music for the Stranger Things Theme song.
Format:
PDF
&
Midi
/ PDF Pages:
3
/ Difficulty:



Add to cart




Stranger Things Theme Piano Sheet Music
I made this Stranger Things theme sheet music right after finishing watching the first season. You can watch my piano cover of this sheet right above!
One episode after another, I grew attached to the opening theme, and decided to play my own interpretation of it. Since it's a really short theme, I made the song last a little longer.
This Stranger Things sheet music is quite easy to play. It's perfectly suitable even for beginner piano players.
Download Stranger Things Theme Sheet Music
Buy this Stranger Things opening theme sheet music to download these files:
Stranger Things Theme Sheet Music PDF
Stranger Things Theme Midi
If you're interested in other TV series opening sheet music, you might want to check my Game of Thrones Theme Sheet Music, Penny Dreadful Theme Sheet Music, The Leftovers Theme Sheet Music, and many more. For a full list, check the main piano sheet music page!
---
Stranger Things is a science fiction-horror TV show released in July 2016 on Netflix.
Some of my personal heroes inspired the world of Stranger Things, such as Stephen King, John Carpenter, Steven Spielberg or George Lucas. The show is set in the 1980s. It relates the story of 3 boys searching for their missing friend. They will soon come across weird events such as a psychokinetic girl who escaped from a military research facility, or a mysterious feral monster lurking around…
The title theme song was composed by Kyle Dixon and Michael Stein, both members of the band S U R V I V E.