Outer Wilds Theme
Sheet Music
Outer Wilds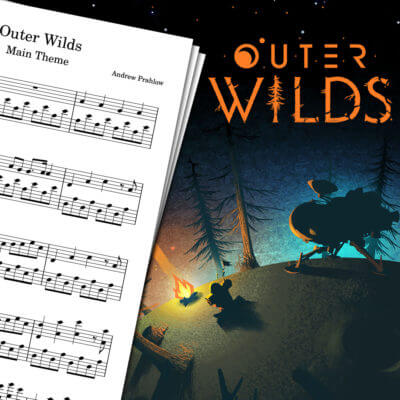 $5.95
Piano sheet music for the Outer Wilds Theme.
Format:
PDF
&
Midi
/ PDF Pages:
4
/ Difficulty:



Add to cart




OUTER WILDS THEME Piano Sheet Music
Outer Wilds (and its first and only DLC Echoes of the Eye) is a video game made by Mobius Digital, first released in 2019, where the player must uncover the mysteries of a small planetary system.
This is probably one of my favourite games from the last decade, and I wanted to play its main theme as soon as I finished it for the first time.
I made this piano arrangement based on Outer Wilds Main Theme (also known as the Travelers Theme),  mixed with the Solanum Theme that I also love very much.
Download OUTER WILDS THEME Sheet Music
Get this Outer Wilds sheet music to be able to download these two files:
Outer Wilds Theme Sheet Music PDF
Outer Wilds Theme Midi
If you want more video game piano cover sheet music, you should check my Metal Gear Solid Theme
Sheet Music, Quiet's Theme from Metal Gear Solid V Sheet Music, or my Red Dead Redemption Deadman's Gun Sheet music. You can also find many more on the piano sheet music page!