The Walking Dead Theme
Sheet Music
The Walking Dead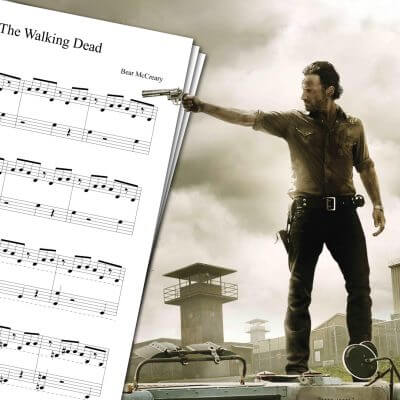 $5.95
Piano sheet music for The Walking Dead theme song.
Format:
PDF
&
Midi
/ PDF Pages:
3
/ Difficulty:



Add to cart




The Walking Dead Theme Piano Sheet Music
Despite a few boring episodes, I still like The Walking Dead. Plus, the main theme was composed by Bear McCreary, so it's not all that bad! The Walking Dead Theme Sheet Music is based on my piano cover which you can watch above.
I wouldn't try to learn this song if you're a complete piano beginner, unless you're looking for a challenge. This sheet music, while not excessively hard, is not easy to play.
Download The Walking Dead Theme Sheet Music
Purchase The Walking Dead Opening Theme Sheet Music, and gain access to:
The Walking Dead Theme Sheet Music PDF
The Walking Dead Theme Midi
You may also consider checking my Breaking Bad Theme Sheet Music, Game of Thrones Theme Sheet Music, or Westworld Theme Sheet Music. For more TV series sheet music, and many more, check the main piano sheet music page!
---
The Walking Dead is a post-apocalyptic TV series. It premiered on AMC in October 2010. The TV series is based on the now famous comic book series, written by Robert Kirkman, Tony Moore, and Charlie Adlard